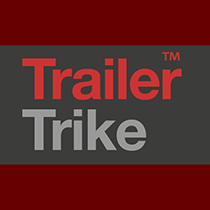 TrailerTrike™ - expanding the cargo trike potential. Like an articulated lorry a Trike with a Semi-Trailer become one machine, the capacity of the Trike is maximised and the ability to manoeuvre is not lost. The new Cycles Maximus TrailerTrike™ is made with a steel frame, leaf springs on the rear wheels, has a quick coupler much like a lorry system, there are dual braking systems on the trailer with hydraulic quick coupling and electrical couplers. The TrailerTrike™ is currently made as a 1.0m or 1.2m x 3m trailer for the Series 700, Series 900 and Series 910. Soft-Top hoops with PVC Cover and rigid bulkheads are available. Batteries can be fitted to the Trailer or the Trike and Solar Trailer roofing systems will be coming soon.


FAQ

Q: How does the trailer attach to the trike? A: We've developed a fifth wheel connector, similar to an Artic Lorry.

Q: What is the payload? A: 400kg
The TrailerTrike™ is compatible with these chassis. Prices below for a complete Trike hand-built to last
---

---

---

---

---

---

---
The electric power for the TrailerTrikes above is called ⚡
PlusDrive™
. To upgrade to ⚡⚡
TractionDrive™
costs an extra
---

---
In keeping with the Cycles Maximus spirit of no compromise, we feel it is important to include our LightsPlus lighting system in the price of our Electric Assists.
Prices are in GBP and exclude VAT and Delivery. In Europe VAT applies unless Business to Business Sale. *USD $ and € Euro prices shown are guide prices only; please contact us for a personalised offer.

We reserve the right to change prices without notice
"Our Cycles Maximus Pedicabs are very popular with riders and passengers alike - a great British innovation" ~ Neil Adams, Bugbugs Ltd. - London Pedicab Operator