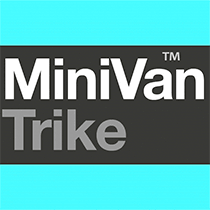 The MiniVan Trike™ is aimed at large and small scale logistics operations where the common 60cm x 40cm Crates are used. The MiniVan is a narrow, yet spacious Cargo Trike combining traffic filtering with volume delivery requirements. Weight is no obstacle, as this is built on the standard CM 250Kg capacity platform.
The potential of this professional Trike has been enhanced; an insulated version has been introduced for Temperature Controlled operations.

The MiniVanTrike™ is only available with the 710 chassis. Prices below for a complete Trike hand-built to last
---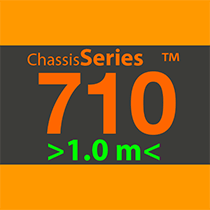 ---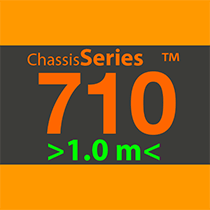 ---
The electric power for the MiniVanTrike™ above is called ⚡
PlusDrive™
. To upgrade to ⚡⚡
TractionDrive™
costs an extra
---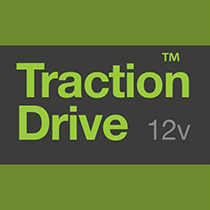 ---
In keeping with the Cycles Maximus spirit of no compromise, we feel it is important to include our LightsPlus lighting system in the price of our Electric Assists.
Prices are in GBP and exclude VAT and Delivery. In Europe VAT applies unless Business to Business Sale. *USD $ and € Euro prices shown are guide prices only; please contact us for a personalised offer.

We reserve the right to change prices without notice
"Cycles Maximus were the best choice for us and our varied activities, with well-made robust products which fitted our needs, they helped us to become a great success. We use our vehicles to help transport 200,000 items of freight a year, collect tonnes of trade waste and move thousands of people around our town. Without a doubt, Maximus are key to enabling us to deliver a high level of service with dependable vehicles" ~ Will Vaughan - Hereford Pedicabs and Cargo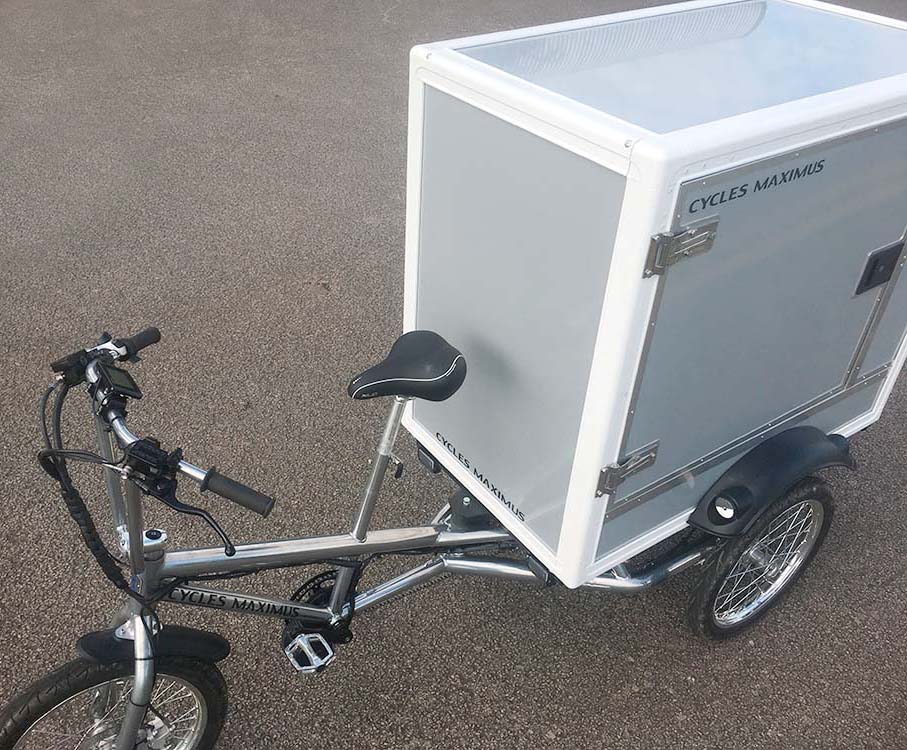 Overall MiniVanTrike™ Dimensions
Length 260 cm, Width 99 cm, Height 165 cm


MiniVan Cargo Body Features
• Fits Series 710 Chassis
• Internal Dimensions - L 128 cm W 74 cm H 106 cm
• Internal Volume 1.00 m³
• Load Capacity 250 kg
• Rugged Composite Construction
• Good Rider Visibility
• Lightweight Construction, Sealed from Water Ingress
• Tough Floor Material
• Side Door Slam Lock and Key Options
• Side Door Extra Access Door for Oversize Items
• Left - Right Access Available
• Stainless Steel Secure Door Hinges
• Rubber Bump Stops on Rear Corners
• Good for Vinyl Wrapping and Branding Stickers
• Integrated Tough Plastic Mudguards with Front and Rear Facing Full-Width Reflectors
• Simple Lighting or Full LED Lights Available
• Standard Colour Silver
Colour options

Please note that this colour chart is only an approximate guide - computer monitors and graphics cards etc. can show these colours differently
Contact our sales team now

'Cycles Maximus were the best choice for us and our varied activities, with well-made robust products which fitted our needs, they helped us to become a great success. We use our vehicles to help transport over 200,000 items of freight a year, collect tonnes of trade waste and move thousands of people around our town. Without a doubt Maximus are key to enabling us to deliver a high level of service with dependable vehicles' - Will Vaughan - Hereford Pedicabs and Cargo