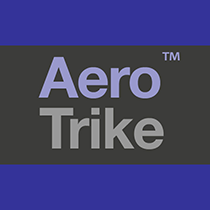 The MaxVan™ Aero has been developed for medium volume, high density loads. Easy access both sides with impressive styling. The AeroTrike™ Body is perfect for carrying liquids or other compact, heavy cargo and has been engineered accordingly, using tough materials and state of the art design. Its low profile body with maximum access Gull Wing doors make this unit an exciting option. Great looks combined with serious strength, the MaxVan™ Aero can provide you with a smart company image while getting the job done. The attention to detail on this unit is second to none, with curved coachwork that may be vinyl wrapped with ease.

The AeroTrike™ is compatible with the 910 chassis. Prices below for a complete Trike hand-built to last
---

---

---
The electric power for the AeroTrikes above is called ⚡
PlusDrive™
. To upgrade to ⚡⚡
TractionDrive™
costs an extra
---

---
In keeping with the Cycles Maximus spirit of no compromise, we feel it is important to include our LightsPlus lighting system in the price of our Electric Assists.
Prices are in GBP and exclude VAT and Delivery. In Europe VAT applies unless Business to Business Sale. *USD $ and € Euro prices shown are guide prices only; please contact us for a personalised offer.

We reserve the right to change prices without notice
"The Cycles Maximus machines successfully bridge the gap between the humble bicycle and diesel-fuelled vans and taxis" ~ A to B magazine
Special Order only: -
---

---

Overall AeroTrike™ Dimensions
Length 280 cm, Width 119 cm, Height 118 cm

Carry 250Kg Payload
Aero Cargo Body Features
• Fits Series 910 Chassis
• Internal Dimensions - L 136 cm W 89.5 cm H 57 cm
• Tough and Lightweight
• Lockable - Tamper Proof
• Weather Resistant - Rain / Wind Proof
• Easy Access from Either Left or Right Sides
• Manual Locking as Standard, Central locking Options
• Easy to Load Low-Lift
• Not Easy to Overload
• Aerodynamic - Low Wind Resistance
• Integrated External Lighting Protected from Accidental Damage
• Good for Full Vinyl Wrapping and Branding Stickers
• Flat pack and "Kit-Able" For Volume Orders to Reduce Shipping Cost
• Rubberised Bumpers on all corners
• Integrated Tough Plastic Mudguards with Front and Rear Facing Full-Width Reflectors
• Simple Lighting or Full LED Lights Available
• Standard Colour Black/Silver
Colour options

Please note that this colour chart is only an approximate guide - computer monitors and graphics cards etc. can show these colours differently
Contact our sales team now

The doors have hinges which cleverly take the weight of the door and provide a water seal at the same time. The doors have medium security lock catches, so one hand is sufficient to close and lock the doors, key options available. While open, the doors provide protection for the contents from heavy rain or sun. The doors have a rugged stainless steel loading sill which can take the knocks of daily use, this is replaceable if required. Inside there are Buffer Rails front and rear to support the product inside, the doors may have foam inserts to support the loads in a sideways manner to avoid tipping during transit