RideDrive™ - Pedal Power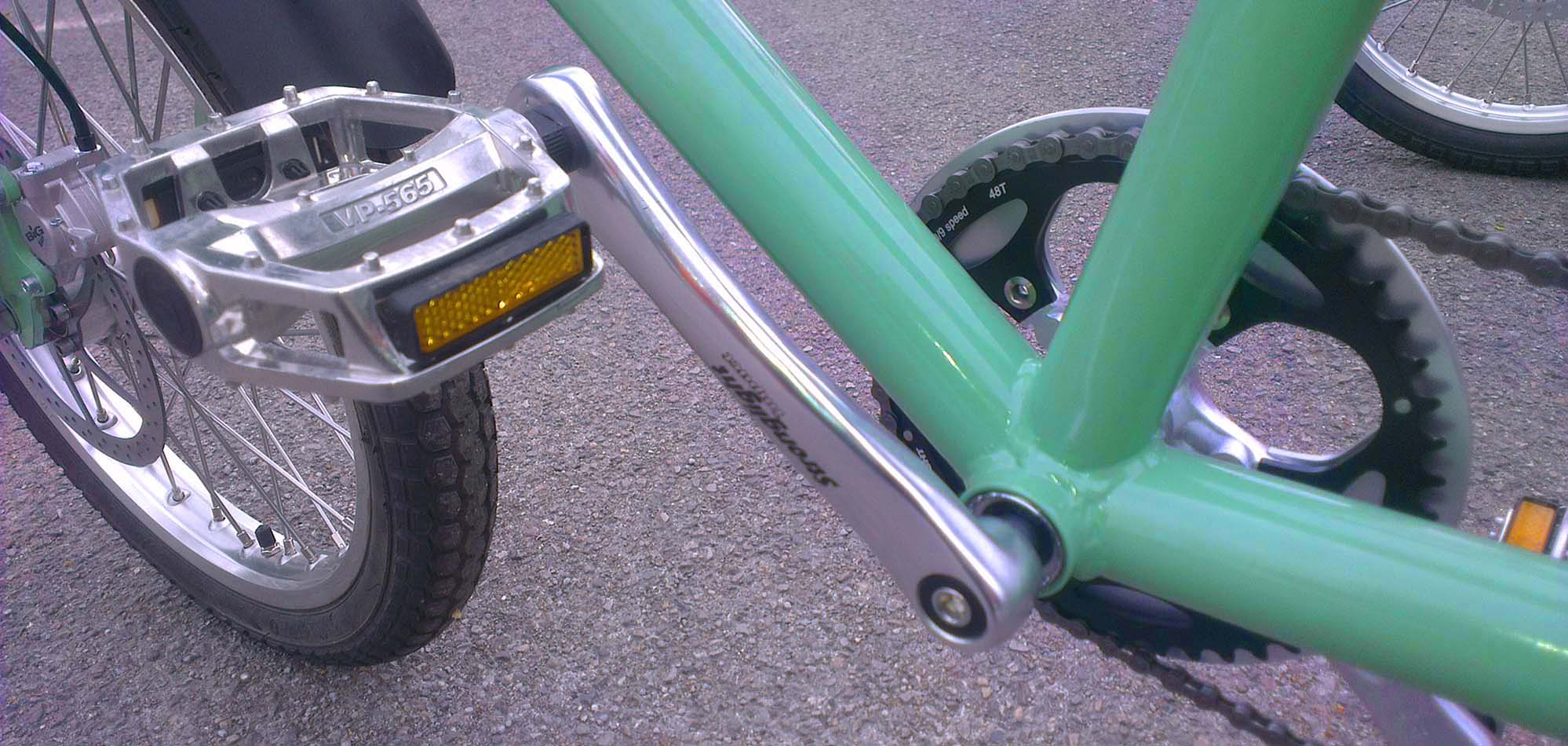 Pedalling is the most sustainable power source, and for many riders it is the purest form of cargo cycling.

RideDrive™ is our standard Pedal-Power transmission setup. A simple though technologically advanced cycle system using CM and quality OEM components from the best manufacturers around the world. Here, they come together in a virtually friction free setup with many options to suit rider, style and terrain.

RideDrive™ has been developed to harness the very best performance from human power alone. It is a rugged transmission that won't let the rider down and will give long and trouble free service life on a well maintained Trike.

RideDrive™ Features and Specifications
Forged Alloy Crank 48 Tooth

Shimano Bottom Bracket

Sram Mech and Trigger Shifters

Pre-Stretched Stainless Steel Gear Cables in 5mm Reinforced Outers

SRAM HUB 3x8 11-32 Cassette

SpeedDrive or MountainDrive Upgrade Available

Differential Final Drive with Choice of Gearing to Suit Rider and Terrain

Nickel Plated Drive Chains

CM Spec Roller Chain Guided tensioning

Ergonomic Bar Grips

Max Bell


'Cycles Maximus pedicabs offer excellent performance, awesome turning radius, nice driving position...coupled with a nice design' Jean-Charles MULLER Cyclorama, Strazbourg, France
TractionDrive™ - Electric Assist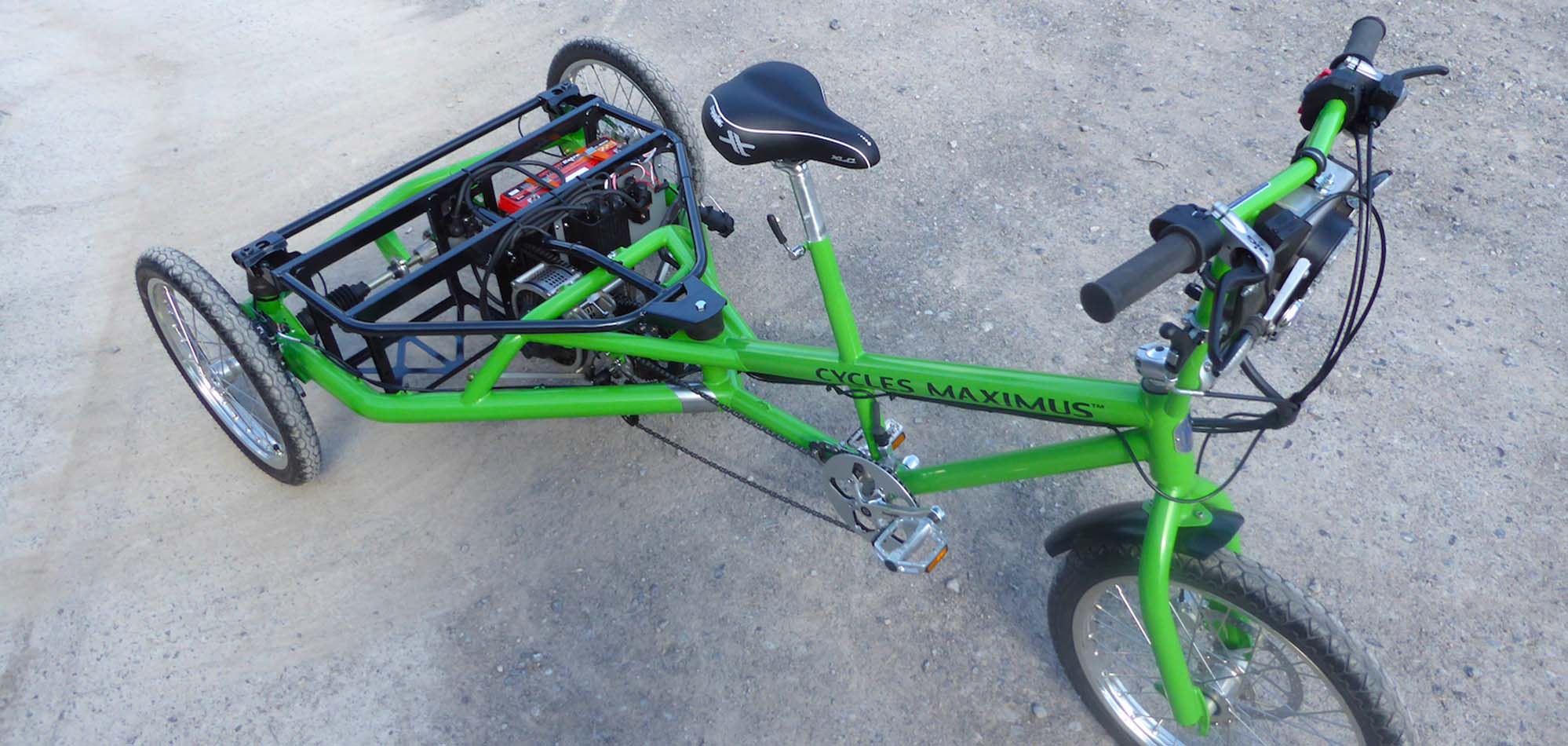 The CM TractionDrive™ is a state of the art, self-contained traction unit. This unique, high-torque transmission system will deliver our maximum load capacity over greater distances and over the most challenging terrain. TractionDrive™ takes the strain out of the most demanding operations. Tried and tested under the most extreme conditions, the TractionDrive™ has proven itself to be highly reliable. The CM TractionDrive™ system comes complete with fully integrated LED lighting, which includes brake lights, indicators and auxiliary outputs to match our body modules which are easily connected to the chassis.
TractionDrive™ Features and Specifications
System Voltage – 12v

Single Mechanical Gear Ratio – Can be Fine Tuned to Application

Battery Supplied - 1 x 100Ah Lead Acid AGM, Battery Compartment 33 cm x 20 cm x Max 28 cm

Battery Management – Battery Indicator with Low Voltage Cut-off to protect battery

Controller – Industrial Standard

Charger – 25A 12 Volt

Electronic Throttle

Pedal Sensor for Safety

Fused Protection on Control and Traction Circuits

Motor – Permanent Magnet Brushed DC Pancake Motor 250 Watts Continuous Rated

Chassis Connects to Body via 7 Pin Automotive Connection

Handlebar Mounted - Front LED Headlight, Front LED Indicators on Rubberised Stalks, Horn

Body Mounted - Front Facing LED Side Lights, Rear Stop and Tail LED Lights, Rear LED Indicators

Dash Mounted LED Ignition On Indicator

USB Charging Socket on Handlebars

Aux Supply – 12v Auxillary Supply in Body

Front and Rear Brake Switched Stop Lights

Contact our sales team now: -

+44 (0)1225 319414